The exhibition center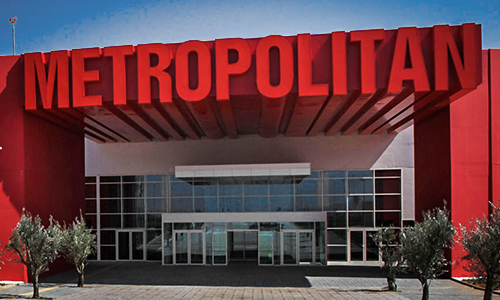 Metropolitan Expo is the most modern exhibition center in Greece. It has parallel, ground floor, spacious and high-ceilinged halls, spectacular reception areas, covered corridors, and fully-equipped venues for events, business meetings and press-rooms. Furthermore, it has restaurants, bars in each hall, wireless internet, a parking surface of 110.000 m2 for visitors and particular parking areas for exhibitors and coaches.
The access is easy via the Attica Highway or via the suburban railway and metro (terminal) wherefrom chartered coaches shall transfer visitors to the exhibition center free of charge.
In addition to certain advantages, comes its location in close proximity to hotels, shopping centers, recreation areas and, certainly, to the international airport "Eleftherios Venizelos".
Further information on the exhibition center may be found here.
Access
Access to the METROPOLITAN EXPO is more than easy through a large number of transportation options, from the Metro* and bus to the plane and car.
It is located at the end of the Attiki Odos Expressway, in the direction of the Airport, only two kilometres from the airport buildings and a few minutes from the metro and suburban railway stations, which are connected to the exhibition centre via regular internal transport.
It is also easily accessible to visitors from outside the region of Attica via the connection of the National Highway and Attiki Odos.
Finally its location renders it the ideal destination for people travelling by plane from abroad or from distant areas of Greece.
By road
Via Attiki Odos Expressway, 2 km after all the Airport facilities (Arrivals, Departures, Hotel, Metro station etc.), and with practical parking lots.
Metro
Airport stop, line 3 – Aigaleo / Monastiraki / Doukissis Plakentias / Airport
Suburban Railway
Airport stop, line Neratziotissa / Doukissis Plakentias / Airport
Buses
All Attica's Express buses to the Airport (X92 / Kifisia – X93/KTEL Kifisou & Liosion – X94 / Ethniki Amina – X95 / Syntagma – X96 / Piraeus – X97 / Dafni)
KTEL Buses
Connection with the Port of Rafina, Markopoulo, Keratea, Kalyvia and Lavrio.
By air
METROPOLITAN EXPO is a short distance from the Athens International Airport "Eleftherios Venizelos". There is also a regular shuttle bus service between the airport and the exhibition centre.
CONNECTION OF THE CENTRE WITH PUBLIC TRANSPORT STOPS
All public transport stops (Metro-suburban railway OASA and KTEL Buses and Airport) are only 5 minutes away from the METROPOLITAN EXPO via especially marked shuttle buses parked outside gate 3 of Arrivals.
In general, the new Exhibition & Convention Centre is only a few minutes away from the Airport and 35 minutes from the centre of Athens.
There are also info kiosks for the facilitation and information of visitors regarding public transport timetables.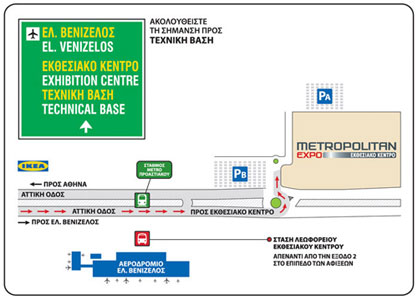 Parking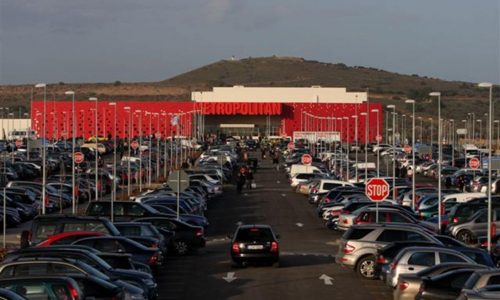 METROPOLITAN EXPO has two parking lots PA and PB covering a total of 100,000 square meters.
All parking lots have pavements, pedestrian crossings and planted road partitions.
CONNECTION TO PARKING LOTS
The centre is connected to parking lots PA and PB via shuttle bus for which there are many stops in the abovementioned areas.